Honda Pioneer 500 Problems (Major Ones And Their Solutions)
The major Honda Pioneer 500 problems are related to its transmission. Specifically, these issues include gear slippage, difficulty in shifting gears, and in some cases, the complete failure of transmission.
Now, while transmission problems are certainly a common issue, other issues can also arise with this vehicle (as reported by many Honda Pioneer 500 owners). From problems with the fuel system to issues with the suspension system, the Honda Pioneer 500 is not without its fair share of problems.
So, in this article, we will explore the most common problems reported by Honda Pioneer 500 owners and provide some tips on how to prevent and/or fix them. So, don't forget to stay tuned till the end.
Honda Pioneer 500 Major Problems And Their Fixes (At A Glance)
Before going into detail, let's take a look at the Honda Pioneer 500 major problems from an overall point of view in the table below.
No.
Problems
Fixes/Solutions
1

Transmission issues

Must consult a professional mechanic

2

Stiff suspensions

Getting aftermarket replacements

3

Low ground clearance

Change the lifting kit, use bigger tires, or adjust the suspension

4

No storage facility 

Install Honda roof bag

5

Fuel pump failure

Replacing the fuel pump (aftermarket service)

Taking official service from Honda to replace the fuel pump
Note: The issues mentioned above are pretty much applicable for all year models of the Honda pioneer 500. However, fuel pump failure issues are majorly reported in the 2019 and 2020 models.
Honda Pioneer 500 Problems And Their Fixes (In-depth Discussion)
In this section, we have broken down each of these problems with their causes and their solutions. 
1. Transmission Issues
We can divide the transmission issues observed in the Honda Pioneer 500 into 3 segments:
Honda Pioneer 500 paddle shift not working properly is a problem observed by many owners of the pioneer 500. 
More specifically, the owners of this vehicle have mentioned that it tends to shift to a "certain gear" on its own, even if you don't want to shift it.
For example, in many cases, Honda Pioneer 500 shifting problems include the vehicle having a tendency to shift to N (Neutral gear) instead of R (Reverse gear).
Unintentional Gear Slipping
We've also observed some reports that state that the gear lever of this vehicle becomes very slippery after a few years of usage. For instance, if you want to shift to gear N (Neutral), it might slip to R (Reverse).
When transmission fails completely, your vehicle loses its mobility all of a sudden. In cases like that, you won't be able to drive it and you will have to tow it to take it to a mechanic.
Solution
The reason for the above-mentioned problems is likely the leakage of transmission liquids, clogged transmission filters, or worn-out gears. 
You must see a mechanic to solve these transmission-related issues on your Honda Pioneer 500. You might need to change the transmission liquid or replace the transmission gasket. Also, replacing the entire transmission system might be needed. 
2. Stiff Suspensions
Another common problem reported by Honda Pioneer 500 owners is that the suspension is stiff, which can make the ride uncomfortable, especially on rough terrain. The stiff suspension can be caused by several factors, including-
Worn suspension components

Improperly adjusted suspension

Damaged suspension components 

Improperly loaded vehicle
Solution
To fix the problem of a stiff suspension, it is important to first identify the cause of the issue. You can do this by conducting a thorough inspection of the suspension components and tires, and by adjusting the suspension if necessary. 
Then, if you find any worn or damaged component, you should get it replaced with an aftermarket option.
3. Low Ground Clearance
One of the major problems that some Honda Pioneer 500 owners have reported is the issue of low-ground clearance. 
More specifically, this problem is characterized by the vehicle bottoming out when driving over rough terrain or obstacles. 
This can cause damage to the undercarriage of the vehicle, as well as make it difficult to navigate certain types of terrain.
Solution
Having low clearance is a native problem of the Honda Pioneer 500. Since the manufacturer designed the vehicle to have low clearance, you have no other option but to change the lifting kits for significant ground clearance. 
On the other hand, re-adjusting/retuning the existing suspension may also give a little bit of relief. 
Check out this video to have a better idea of how to adjust your suspensions to have optimum ground clearance.
4. Engine Startup Failure
Enormous amounts of reports were filed as Honda Pioneer 500 starting problems. Engine starting can be caused by a variety of factors, including a weak battery, battery deterioration, a faulty starter, or a problem with the fuel system.
A weak battery can cause the engine to crank slowly or not start at all. Plus, a worn brush, faulty solenoid, or a problematic flywheel cause the starter to malfunction.
Lastly, problems with the fuel system (mostly, a problematic fuel pump) can also cause difficulty starting the engine.
Solution
Unfortunately, this is not a type of problem that you can combat in a DIY fashion. So you must have a professional mechanic check your Pioneer 500 and replace any problematic parts.
5. Fuel Pump Failure
Some units of the Honda Pioneer 500 model have shown the problem of fuel pump failure (especially the 2019 and 2020 models). 
That's why Honda has officially recalled its 2019 and 2020 models and has decided to provide free replacement of the fuel pumps.
Check out the official notice released by Honda in 2021: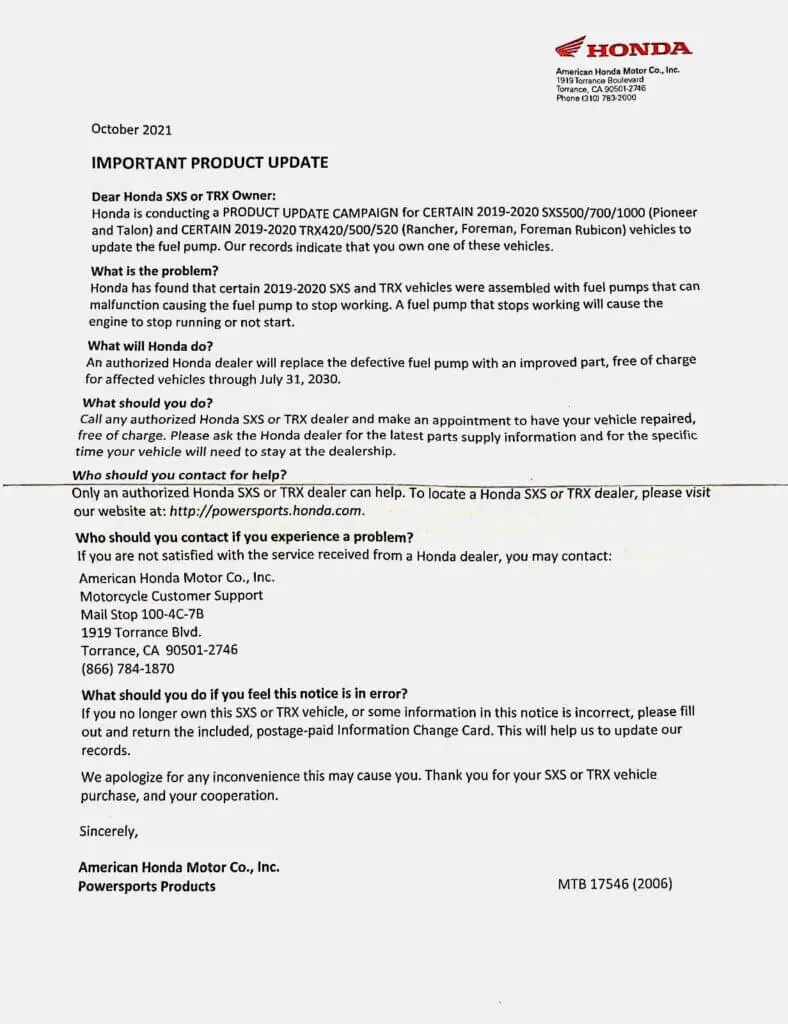 Solution
In the case of this problem, you will have to acquire the official servicing provided by Honda itself. To check whether your vehicle is eligible to get this free service, you'll have to contact the official customer care line of Honda and provide them with your VIN. 
The official service authority of Honda will likely run a complete diagnostic and determine the cause of the fuel pump failure in your vehicle. They do this by examining the Honda Pioneer 500 codes (diagnostic codes) that are displayed by the diagnostic machines. 
Now, in case Honda denies you the official free service, you'll have to install an aftermarket fuel pump to your Honda Pioneer 500 (our pick: FPF Fuel Pump for Honda). You must see a professional mechanic to do that.
Frequently Asked Questions
Let's get to know some of the frequently asked questions related to this topic:
Is there any specific year model of the Honda Pioneer 500 that I should avoid buying?
The 2019 and 2020 year models have officially shown the most amount of problems, so we suggest avoiding these years. 
Which year models have fewer problems in general for Honda Pioneer 500?
Generally, newer models of the Pioneer 500 have shown fewer problems (except the 2019 and 2020 models) compared to the older ones, so it's best to buy the newest model of this vehicle. 
Final Words
There are many Honda Pioneer 500 problems reported. All of those are not severe. We have covered most of the critical issues here.
So, you cannot take a DIY approach to solve them. Therefore, you have to see a professional mechanic to solve them permanently. By the way, in most cases, proper maintenance and regular checkup may help you to prevent many problems.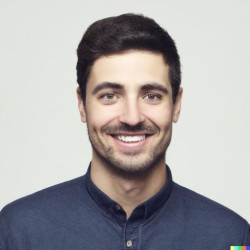 Latest posts by Steven Johnson
(see all)