6 Major Problems of Polaris Magnum 425 4×4 with Fixes
Polaris Magnum 425 and its 4×4 problems can be plenty. Generally, engine problems like failing to start, unable to rev up, and RPM ups and downs are seen in this ATV (all-terrain vehicle). Thus, no spark or weak spark and static starter motor are also common in this model.
Generally, air filtration, ignition, and clutch springs must be cleaned and repaired when engines malfunction. The spark problem requires replacing ignition parts, such as spark plugs and an inspection of the starter system fixes the motor problem.
Problems and Solutions at a Glance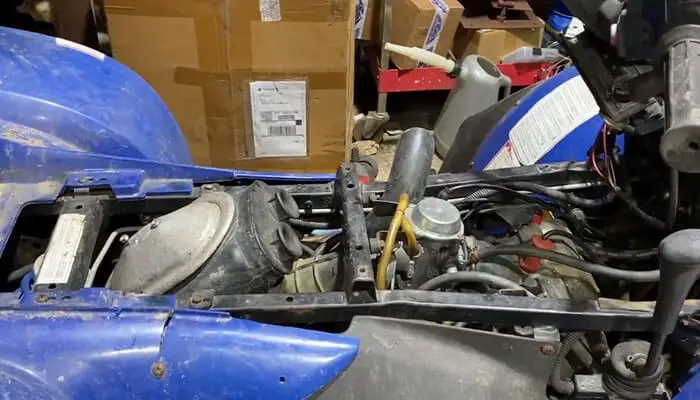 | | |
| --- | --- |
| Problems | Solution |
| The engine turns over but does not start | Add fuel, clean the vent system, and repair the ignition system |
| No revs from the engine | Repair ETC, air intake, speed limiter, and exhaust system |
| Excessive engine RPMs | Repair drive and driven clutches |
| Low engine RPMs | Repair drive and driven clutches |
| Weak or no spark | Inspect and service the ignition system |
| The starter motor stuck | Inspect and service the starter system, |
However, there can be many other underlying causes that are causing such problems. To know more specifically, keep reading this article.
What Are The Problems of Polaris Magnum 425 4×4 And How to Fix Them?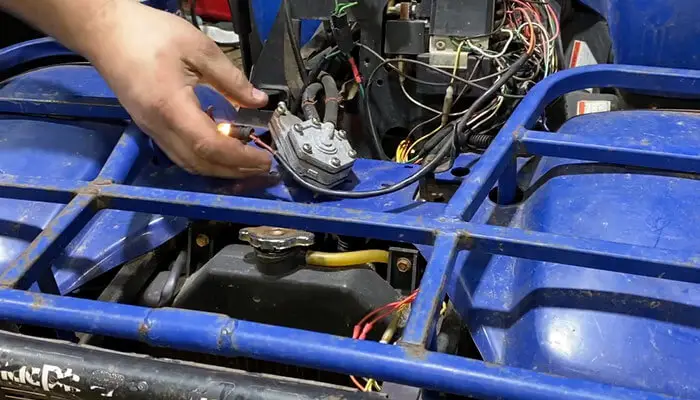 The problems of a Polaris magnum 425 4×4 usually occur in the following parts:
Engine
Clutches
Transmission Service
Ignition System
Starter System
Let's discuss the 6 major problems of this ATV:
1. The Engine Turns Over But Does Not Start
The reasons behind this issue include:
Fuel malfunction
Filters or fuel lines with dirt
Water in the engine
Compression below the optimum level
Spark plug defect
Fixes
You have to follow the following procedure to troubleshoot this problem:
Fix all the problems related to fuel
Clean and service the breathing system
Disconnect the fuel line and drain the crankcase
Inspect carb needle and seat, head gasket, piston, and cylinder (repair as required)
Service ignition system
2. No Revs from The Engine
This problem happens due to the following underlying causes:
Spark plug malfunction
Breathing obstruction
Airbox missing
Carburetor problem
ETC switches and reverse speed limiter restricting speed
Mistimed ignition
Fixes
In order to fix this problem, you need to take the following measures:
Replace the cable
Clean or repair the fuel intake system
Fix the broken ETC, reverse speed limiter, or exhaust system
Readjust the ignition timing
Fix the carburetor
3. Excessive Engine RPMs
Usually, drive and driven clutch defects cause this to happen.
Fixes
To fix this RPM issue, changing and repairing the clutches can be helpful. However, removing the excessive weight from the spring and shift can also fix the problem.
4. Low Engine RPMs
This happens due to:
Oily converter sheaves
Defective drive and driven clutch spring
Excessive load on drive clutch shift
Fixes
Take these measures to solve this problem:
A new clutch spring should be installed in the drive and driven clutches
Change the belt and/or adjust the tension on the belt with the correct shift weight kit
5. Weak Or No Spark
Weak or no spark indicates a problem in the ignition system. This happens due to:
Spark plug damage
Spark plug components damage
Faulty CDl module or lead connection isn't good
Improper wiring
Engine stop switch, ETC switch, or ignition switch defective
Faulty terminal board or connections
Ignition defect
Worn out Crankshaft
Flywheel defect
Trigger coil air gap more than .016-.040″ (.4-1.0 mm)
Fixes
To solve this issue, you need to follow some steps:
Replace the spark plug
Ensure proper wiring
Service terminal board or connectors
Replace any faulty component
Replace the ignition coil and the CDI module if required
The wiring diagram of  magnum 4×4 can help you with the wiring: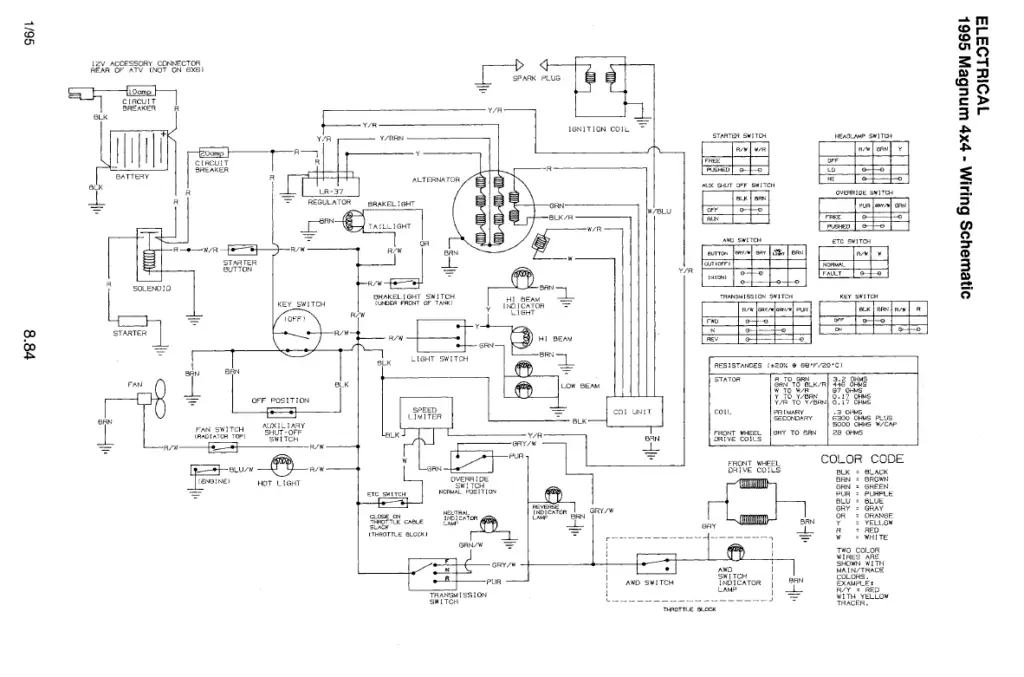 6. The Starter Motor Stuck
The causes include
Battery problems
Improper cabling
Damaged starter button, ignition switch, starter solenoid, or starter motor
Blocked or seized engine
Fixes
If this is the problem, the fixes are:
Install a properly charged and fresh battery
Check if the voltage is the same on both sides of the circuit breaker, ignition switch/engine stop switch, and starter button
Test if the resistance of the starter solenoid coil is 3.4 ohms
Properly install all the cables to factory conditions
Replace the starter solenoid
If any switch is broken, replace it
If the engine is seized, it's better to service the engine with the help of a good mechanic
If the problem persists, the starter must be removed for static testing and inspection
Less Common Problems
Apart from these components, brakes and fuel systems can cause some issues.
However, the percentage is negligible. In case you face any starter noise or chain problems, you can watch this video to get help.
FAQs
Let's look few of the frequently asked questions and their answers on this topic:
What kind of oil does a Polaris 425 Magnum use?
Ans. A Polaris 425 Magnum uses Castrol power 1 racing 4T 5W-40 oil in the engine.
What type of Transmission Fluid goes in a Polaris?
Ans. Polaris AGL synthetic gearcase and transmission fluid are ideal for ATVs.
Read More- Polaris Magnum 325 Fuel Line Diagram: Guide With Appropriate Images
Final Thoughts
Polaris Magnum 425 4×4 is an older model of the 4-stroke ATVs. Hence, it's natural to find problems in different parts of this ATV. Mostly, you'll only get refurbished or second-hand versions of this ATV. Hence, the engine, transmission, starter, and ignition system will show problems.
However, you can solve these problems mostly through proper maintenance and cleanliness. Besides, it's very crucial to change the oil if needed. No matter what you do, make sure to take professional help when needed. And this article will be more than handy in guiding you.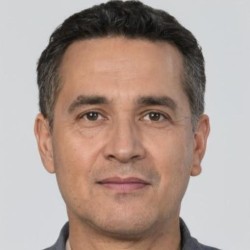 Latest posts by Mark Williams
(see all)