Polaris Ranger 570 Vs. 1000 – Which One Is Better?
Comparably, Polaris Ranger 1000 is better than Polaris Ranger 570. Well, why would I say so? There must be reasons behind it. Better ground clearance, smoother and quieter riding, great power, etc., are the reasons that make Polaris Ranger 1000 stand out.
Moreover, Polaris Ranger 570 is also a fantastic vehicle, and it has incredible features. But the quality of the Polaris Ranger 1000 outstands the 570. Besides, research shows people like the Polaris Ranger 1000 more than the Polaris Ranger 570. Its outstanding performance has made it famous to car users.
Now let's dive into the comparison, features, price, and more that will clarify both models better. So, let's start right away!
Polaris Ranger 570 vs. Polaris Ranger 1000 – Comparison Table
| | | |
| --- | --- | --- |
| Differences | Polaris Ranger 570 | Polaris Ranger 1000 |
| Ground clearance | 25.4 cm | 33cm |
| Top speed | 44 mph | 64 mph |
| Price | 15000$ | 20000$ |
| Fuel capacity | 9.0 gal | 11.35 gal |
| Cab | Small cab | Big cab |
Polaris Ranger Overview 570 Vs. 1000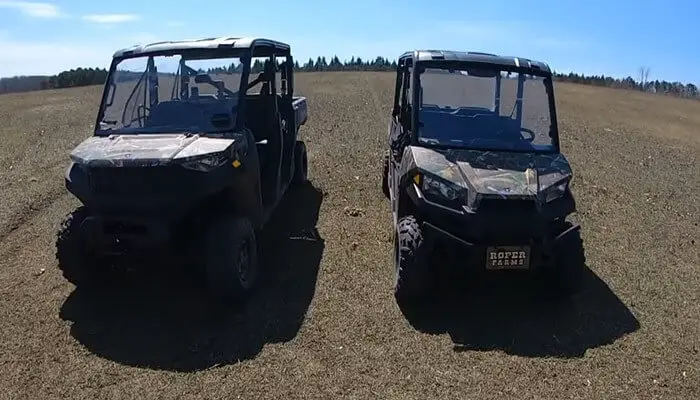 I will give details about both models in this section. You can understand which model holds what features and which does not. So look below.
Engine
Polaris Ranger 570 is a terrain single-cylinder engine. Most of the UTVs have one or two cylinders. And the UTVs engine displacement contains about 600-1000 CC.
Likewise, the UTV Polaris ranger has a 567 engine displacement, which is not bad. This single-cylinder engine is lightweight compared to the other UTVs. Although it has less horsepower than other UTVs, you can easily control the vehicle and have a smooth drive.
On the other hand, Polaris Ranger 1000 has a 999cc engine displacement. This UTV has four strokes single cylinder. The 999 cc gives more power, which provides more speed. And the more cubic centimeters mean the more power it will provide. So this also means that Polaris Ranger 1000 has higher cc than the ranger 570.
Ground Clearance
Polaris Ranger 570 has a 10.5-inch ground clearance. To have better traction on rugged roads, this UTV provides enough clearance. If you drive off-road and face too many obstacles, you will need ground clearance of more than 10.5 inches.
In that sense, choose a vehicle with suitable ground clearance. Thus, when you go for rock crawling, you do not damage your vehicle's lower parts or components.
On the contrary, Polaris Ranger 1000 has 12-inch ground clearance for other models and 12.5-inch for premium models. This means you are going to have better traction on off-roads.
This ground clearance will not only give you a quality ride while driving on bumpy roads but also save the components of your vehicle from being hampered.
Brakes
The vehicle has front brakes and rear brakes with the hydraulic disk. Front brakes consist of 2 piston calipers, and rear brakes have one piston calipers. The brake provides good stopping power and gives you a risk-free drive.
Similarly, Polaris Ranger 1000 has two-piston front and rear caliper brakes. Both brakes are of the hydraulic disk as well. The two-piston caliper brakes provide smooth stopping power. Thus, the brake acts fast without causing any harm to you and to the car itself.
Top Speed
The top speed of the Polaris Ranger 570 is 44 mph. It gives you ample speed while driving the vehicle. It is faster and quieter when you stop the brake.
However, the top speed of the Polaris Ranger 1000 is 64 mph. That means it provides smooth and faster driving.
Transmission
Polaris Ranger 570 has low and high gear on the gearbox. It gives you adequate acceleration, and you can get reverse lock here.
Likewise, Polaris Ranger 1000 has a PVT automatic transmission. Besides, you can find the low range with reverse lock in Polaris Ranger 1000 transmission.
You can also check out this youtube video for a better understanding.
Features of Polaris Ranger 570 and 1000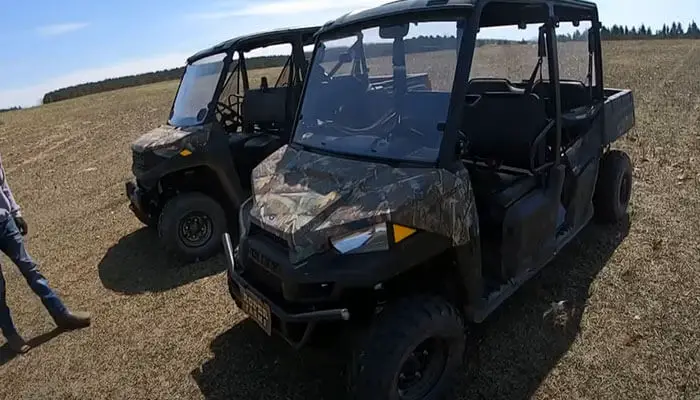 In this section, I will elaborate respective features of both models. Please have a look.
Polaris Ranger 570 Features
Excellent towing capacity of 1500 lb
The turf mode available in the vehicle lets you take easier turns
0 fuel capacity that lets you work longer
The sealed suspension makes your vehicle protected from dirt
The in-cab storage lets you store necessary tools that you need to keep near you
Polaris Ranger 1000 Features
Polaris Ranger 1000 gives you a comfortable seat and enough room to move
The excellent high ground clearance of 12 inches gives you ample traction to ride on rock roads
Strong chassis that makes the vehicle last longer
In-cab storage that lets you keep essential things
4 cm suspension gives you easy and smooth ride
Pros and Cons of Polaris Ranger 570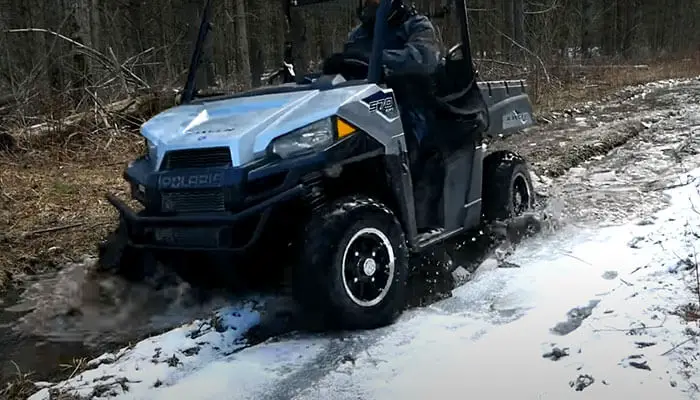 Here are the pluses and minuses of Polaris Ranger 570.
Pros
Lightweight
Comparatively, cheap and offers excellent performance
Easy to control
Cons
Less horsepower
Less fuel capacity
Pros and Cons of Polaris Ranger 1000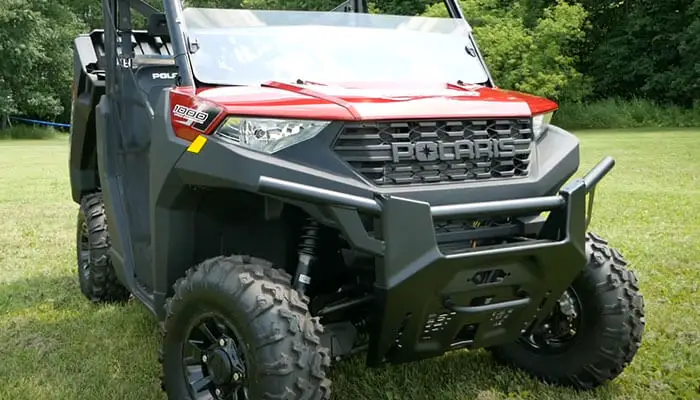 Check out below to know the pros and cons of Polaris Ranger 1000.
Pros
High ground clearance
999 cc engine displacement which gives more horsepower
More fuel capacity
More top speed
Cons
Heavy vehicle
Large in size
Read More about the most common problems of Polaris Ranger 1000
FAQs
How many miles can Polaris Ranger 1000 go?
Polaris Ranger can go 5000-6000 miles on average.
What is the hauling capacity of the Polaris Ranger 570?
The hauling capacity of the Polaris Ranger is 1500 lbs.
What is the height of the Polaris Ranger 570?
The height of the Polaris Ranger 570 is 73 inches.
Conclusion
Now that you have reached the end of this article, you will have a clear idea about both models.
Now, you can choose one according to your preference. The final decision is yours!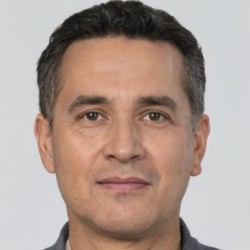 Latest posts by Mark Williams
(see all)