6 Common Polaris Ranger 6×6 Problems [Reasons +Solutions]
The Polaris Ranger 6×6 has unparalleled off-road comfort and capability. Also, it comes with the highest performance and maximum stability. However, this particular model also brings some pitfalls.
So what are the Polaris Ranger 6×6 problems?
Polaris Ranger 6×6 faces problems with the fuel pump, and the engine fails to start. Then, poor lawn performance and engine backfiring are known as common problems. The users also complain that Polaris Ranger suffers from power loss during acceleration problems.
Give a shot at the article to know the possible reason and solution to each problem separately. Let's start with a quick picture of them.  
6 Common Polaris Ranger 6×6 Problems, Reasons, And Solutions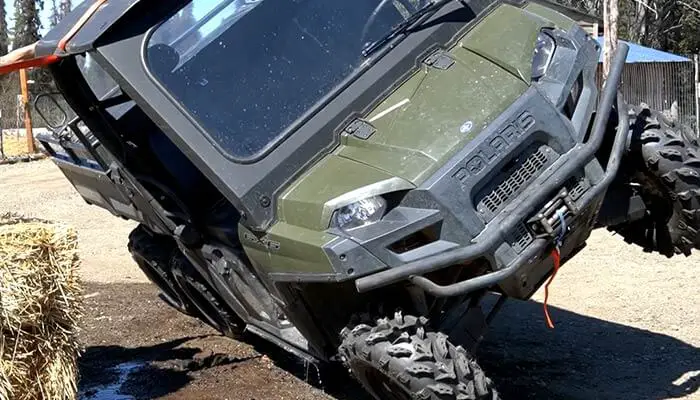 Polaris Ranger 6×6 has its own share of problems; any motorized vehicle does. It's a good idea to take a glance at the problems before we discuss them in detail.
Without further ado, let's begin.
Problems 
Reasons 
Symptoms 
Solutions

Engine won't start 

Loose or bad spark plug, and a dead battery 

Engine fails to fire up

Replace the spark plug and check the battery

Fuel Pump Issues

Clogged or leakage in the fuel pump

After some time; ethanol fuel turns into junk

Has to replace the fuel more often

Ineffective lawn Performance

Water in the fuel tank 

Back wheel tears up the turf

Use siphon kits to siphon out the water from the fuel

High idling, no shifting 

Debris in the air filter

Shaking and jerking 

In transmission

Clean the dirt from the air filters

Engine backfiring

Faulty plug wirings, injectors, clogged fuel filter. 

Loud popping noise, loss of power, and acceleration 

Check and replace the fuel filter

Power loss during acceleration 

Unstable or faulty accelerator cabling

Uneven acceleration 

Inspect and replace

accelerator cabling 
Problem 1: Engine Won't Start
The most prominent problem the Polaris Ranger 6×6 faces is that it can't start the engine. The engine happens to be the most vital organ of any vehicle. If anything happens to it, the whole vehicle starts malfunctioning. 
Symptoms
The main symptom of this issue is the engine fails to fire up. Though your engine is full of gas, the engine refuses to start.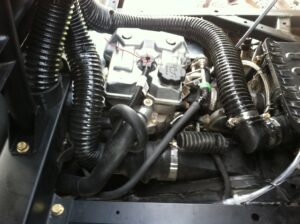 Reason
It may occur because of a faulty plug or a bad one. However, one user reported that problems persist even after replacing the old plug with a new one. Moreover, the battery may be dead or not sufficiently charged, causing the problem.
Solution
First of all, check the spark plug. Over time, an engine's spark plug wears down and becomes damaged.
Therefore to get rid of faulty spark plugs, keep an eye on the service manual to know how often you should change the spark plug to avoid any issues.  
Also, the connecting terminals must be confirmed not to be disconnected, loose, or improperly connected. Then, always make sure to charge the battery to avoid a dead battery problem. 
Problem 2: Fuel Pump Problems
Another important issue happens with the Polaris Ranger 6×6, which is a fuel pump issue. Fuel pump problems can overheat the engine, which leads to the engine getting extremely hot while driving.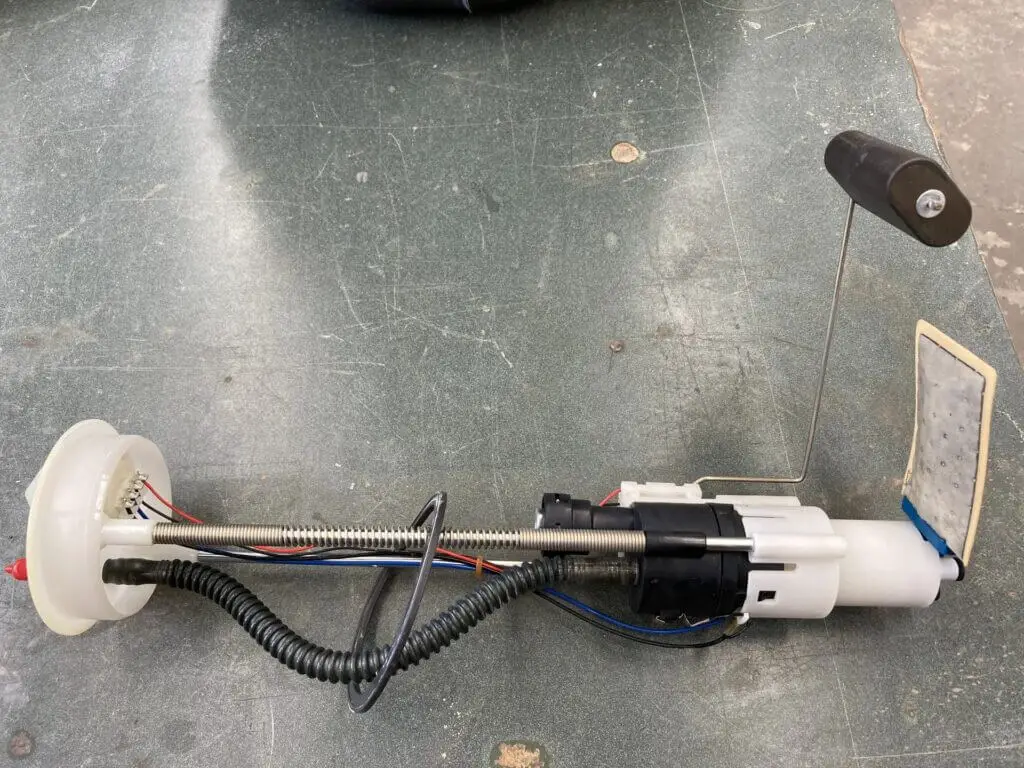 Symptoms
You may notice that the ethanol fuel turns into junk after using it for a couple of weeks. Fuel pump clogging or leakage occurred as a result of all that junk.
Reason
The fuel compartment may have been poorly assembled and finished. Also, the materials used may have been inferior. Clogging or blockages in the fuel pump is more common in older versions of Ranger6x6.
Solution
The fuel pump is considered the stomach of any vehicle. So, it gets stuck with many problems with multiple issues. 
Fuel pump clogging and leaks can be prevented by frequently replacing the fuel. Therefore, ensure you keep replacing the fuel more often to avoid those hassles. 
Problem 3: Ineffective Lawn Performance
One of the most notable downsides of Polaris Ranger 6×6 is it can't perform effectively on the lawn. You may face slow movement throughout the lawn while riding. The symptoms may vary for different people.
Symptom
Mostly, you can notice that your vehicle's back wheels rip up the grass. Also, it may struggle to turn on smoothly on spongy ground. Then, water coming over the floorboards also frequently happens while riding.  
Reason
The most probable reason can be the fuel contamination with water. Fuel can be mixed up with water in the fuel tank. 
Solution
In order to dilute the water fuel mixture, you can add a fuel additive based on methanol. Also, Siphon kits are available for siphoning out water from fuel. However, you must ensure that the hose reaches the bottom.
Problem 4: High Idling, No Shifting
This problem is not so discussed among the users of Polaris Ranger 6×6. However, the newer version users are facing high idling and no shifting quite often.  
Symptom
You may face grinding in the transmission if your vehicle is experiencing high idling and no shifting. 
Reason
There can be multiple reasons for high idling your vehicle. The most common is that the air filter is clogged by debris and dirt. Since the air filter allows your vehicle's engine to breathe and move efficiently and seamlessly.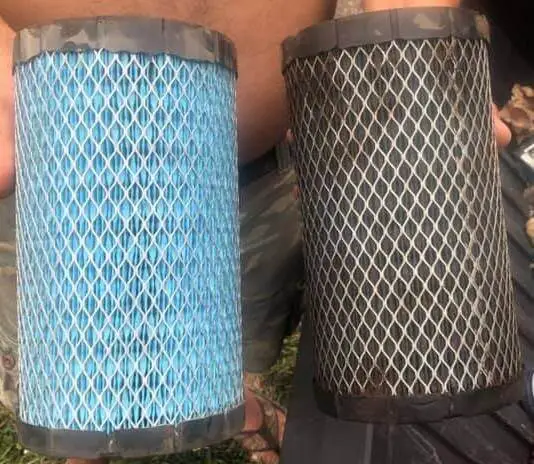 Solution
You can easily solve this issue just by cleaning the air filters. Make sure to include the air filter cleaning routine in your maintenance guide. Moreover, you should check the level of fuel in your tank to ensure everything is operating correctly.
Problem 5: Engine Backfiring
No matter which brand and model of utility vehicle you own, misfiring, backfiring, and bogging are common issues. Similarly, Polaris Ranger 6×6 users are also familiar with this issue greatly.
Sometimes the engine can bog down in the worst possible ways at RPMs between 3000 and 3800. You can experience that your vehicle can cruise at 45 mph in that situation. 
Symptom
If you notice that the engine is making a popping noise louder, be sure that the engine is backfiring. Also, the loss of power and acceleration occurs due to engine backfiring. 
Reason
A clogged air or fuel filter, a bad plug, plug wiring, injectors, or a bad coil pack are most likely to be the culprits behind this problem. Any of the reasons for these can bring engine misfiring issues. 
Solution
To solve this particular problem, you need to follow a stepwise solution. Let's get to know them.
First, check the plugs. If you find them faulty, just replace them without further ado. Also, the wiring should be changed if it is not okay.

Always and always keep clean the air and fuel filters to ensure the smooth flow of fuel. 

Also, the coil pack should be checked and replaced if it's found to be faulty.
When these are thoroughly checked and they do not reveal any issues, the throttle body or TPS sensor could be the issue. Perhaps your device needs to be flashed again.
Problem 6: Power Loss During Acceleration
While accelerating your Polaris Ranger 6×6, you may encounter that the vehicle loses power. This rarely happens, but when it does, the engine also refuses to move with the power supply.  
Symptom
The exact sign of power loss during acceleration is uneven acceleration. After noting this acceleration is happening unevenly, try to figure out the reason to get rid of this issue. 
Reason
Normally, it happens due to unstable and faulty accelerator cabling. Sometimes it causes a problem like if it becomes dusty, clogged, or contaminated at some point between the accelerator pedal and the carburetor.
Solution
The solution is so simple. You need to examine the accelerator cabling very initially after facing this issue. If you find them faulty and unstable, make sure to change them as early as possible.
Also, check the fuel level to see if it's okay. Because it's also responsible to function accurately.  
Prevention of Polaris Ranger 6×6 Issues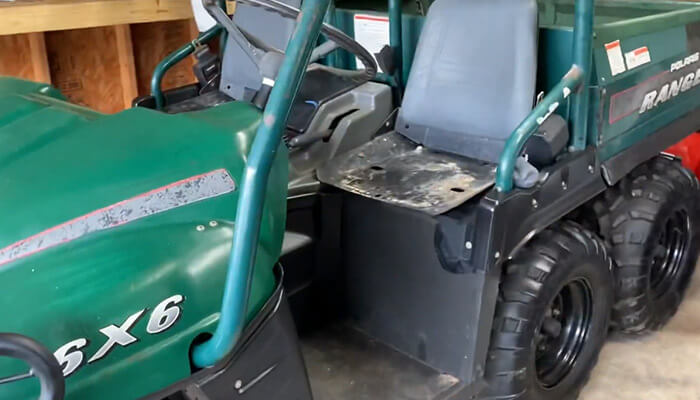 Nobody wants to suffer continuously from vehicle issues. To avoid unnecessary problems, you should maintain some tips. 
Always make sure to check the fuel level.

Water level also must be checked because it's important for your vehicle to perform well. 

You must keep clean air and fuel filters. So that they can't be clogged anytime. 

Ensure that you check once a week for any leakage in the fuel pump. 

Also, don't forget to pamper your Polaris Ranger 6×6 with lubricating.
FAQs
What is the top speed of a Ranger?
The top speed of the Polaris Ranger is claimed to be 110 mph. Compared to its peers, the speed is comparable. Another rundown of the performance specs for the 2022 Ranger: 6.5 seconds from 0-60.
How can I make my Polaris Ranger faster?
You can easily make your Polaris Ranger faster by installing an upgraded clutch kit. Also, the accelerator can produce increased rates. 
Do Polaris Rangers overheat?
Of course, your Polaris Rangers can overheat like every powered vehicle. The Polaris Ranger lineup is known for its reliability, but one simple search online will reveal many people complaining about a small problem: overheating engines. But don't freak out and sell your Ranger just yet.
Conclusion
Hopefully, you've found out your vehicle's exact problem by reading the Polaris Ranger 6×6 problems article. 
Don't get so panicked over the issues discussed above. Because the Polaris Ranger 6×6 has a powerful engine, big bore, massive rear box capacity, and lockable rear storage boxes. It is equipped with hard-working features like a 1-ton towing capacity.
After rising, you have to solve the issue as soon as possible. Sometimes you may need to visit a professional mechanic to sort out the critical issues.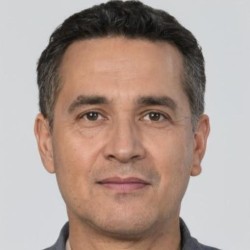 Latest posts by Mark Williams
(see all)